(MINNEAPOLIS) — The trial of former Brooklyn Center Police Officer Kim Potter charged in the death of Daunte Wright, a 20-year-old Black man who was fatally shot during a traffic stop, begins Wednesday.
Opening statements will take place in the Hennepin County Government Center in Minneapolis, Minnesota.
Potter, 49, is charged with first-degree and second-degree manslaughter in the April 11 incident. She has pleaded not guilty to both charges.
Potter has said she meant to grab her stun gun, but accidentally shot her firearm instead when she and other officers were attempting to arrest Wright, who had escaped the officers' grip and was scuffling with them when he was shot.
Wright was initially pulled over for an expired registration tag on his car, but officers discovered he had an outstanding warrant for a gross misdemeanor weapons charge and tried to detain him, according to former Brooklyn Center Police Chief Tim Gannon.
Potter was first indicted on a second-degree manslaughter charge, which alleges that she acted with "culpable negligence" in Wright's death. A first-degree manslaughter count was later added. Prosecutors say that Potter caused Wright's death while recklessly handling a gun, causing the death to be reasonably foreseeable.
An intent to kill is not required in either charge.
The maximum sentence for first-degree manslaughter is 15 years and a $30,000 fine and for second-degree manslaughter, it's 10 years and a $20,000 fine.
Potter resigned from the Brooklyn Center Police Department two days after the incident.
The jury of 12 jurors and two alternates in the racially charged case is composed of 11 white jurors, one Black juror and two jurors of Asian descent.
Wright's death reignited protests against racism and police brutality across the U.S., as the killing took place just outside of Minneapolis, where the trial of Derek Chauvin, a former officer who was convicted of murdering George Floyd, was taking place.
Here's how the news is developing. All times Eastern:
Dec 08, 6:49 pm
New body-cam footage shows Potter moments after shooting Wright
New body-worn camera footage played in the courtroom while the prosecution questioned Brooklyn Center officer Anthony Luckey showed the moments after Kim Potter shot Daunte Wright.
In the video, taken from Luckey's body-worn camera, Potter can be seen falling to the curb.
"Oh my God, oh my God, oh my God," she said, before hyperventilating for several minutes with her face buried in the grass.
Luckey's and Sgt. Mychal Johnson's arms can be seen reaching down to Potter.
"Just breathe," Luckey can be heard saying.
"I'm going to go to prison," Potter said.
"No, you're not," Luckey said.
"Kim, that guy was trying to take off with me in the car!" Johnson said in the video.
Potter then sat up on the grass and repeatedly said, "Oh my God," as her colleagues waved traffic by and discussed shutting down the street.
Court has wrapped for the day and will resume at 9 a.m. local time Thursday.
-ABC News' Sasha Pezenik
Dec 08, 5:23 pm
Massachusetts hospital running at 120% capacity
Massachusetts is facing a surge, even though more than 72% of the state's total population is fully vaccinated. The state's daily case average is at its highest point in nearly a year and new hospital admissions have more than doubled in the last month.
In central Massachusetts, the UMass Memorial Health System is seeing more patients than at any other point in the pandemic.
At UMass Memorial Medical Center, all 450 beds are full and 75 patients were waiting in the ER Wednesday for a bed, including seven ICU patients. Between 60% and 75% of the patients aren't vaccinated.
"This is the worst we've ever seen it," UMass Memorial Health Care president and CEO Dr. Eric Dickson told ABC News Wednesday. "We're running at more than 120% of capacity right now,"
Dickson said he is "extremely concerned" about how the health system will handle potential increases over the next several weeks and months.
"We're holding on right now today. But if this keeps on going up for the next five, six weeks, I'm not quite sure where we're going to get everyone in," Dickson said.
-ABC News' Arielle Mitropoulos
Dec 08, 3:28 pm
Daunte Wright's mother recalls final phone call with son
Katie Wright, testifying under the name Katie Bryant, told jurors about the final call she had with her son. She recalled him saying that he had an air freshener hanging from his rearview mirror and said he was stopped by police for it.
She told him to take it down and he said he already had.
He said that they were asking about insurance information, and she told him to hand the phone to the officer when he came to the window because the car was not protected by any insurance.
"He just sounded really nervous, but I reassured him that it would be okay," she said. 
* *
She heard the police come back to the window, ask Daunte to step out of the vehicle and she heard him ask what he was in trouble for.
She heard a voice tell Daunte to put the phone down and hang up the phone, and heard Duante and the officers begin to scuffle. She said she was then disconnected.
"I was panicked. I called back, it seemed like 100 times but I believe was probably maybe four or five times and I kept calling so finally FaceTimed," Bryant said. "I don't know how much time lapsed, maybe a minute or two, and a female, [his girlfriend], answered the phone."
"She was screaming. I was like, 'what's wrong?' And she said that they shot him and she faced the phone toward the driver's seat. My son was laying there. He was unresponsive and I heard somebody say 'hang up the phone again,'" she tearfully recalled.
Dec 08, 2:54 pm
Daunte Wright's mother is 1st prosecution witness on stand
Katie Wright, testifying under the name of Katie Bryant, is the first witness to take the stand in the trial of Kim Potter who fatally shot her son, Daunte Wright.
Daunte was Katie and Aubrey Wright's first child together.
She recalled intimate details of Daunte's life: "He was funny, he was a jokester. He liked to make everybody laugh. He had a smile that lit up a room. He was amazing."
He had just enrolled in a trade school and planned on pursuing carpentry, she said, and that Daunte's son, Daunte Jr., is now two years old.
The jury is being shown photos of Daunte, his son and his family. Daunte was shown taking care of his son, who Katie said was born prematurely and was in the hospital for several months.
"He was very proud to be a father," Katie said. "He was also worried that just because he was premature about him sleeping and he could sleep a lot as a premature baby and he was really worried about that. He would play with him, he would do everything that a father needs to do for his child."
"He was an amazing dad," she added.
Dec 08, 2:05 pm
'An error can happen,' argues Potter defense
The defense said it plans on introducing Dr. Laurence Miller, a psychologist, to testify about traumatic incidents, police work and action errors, which defense attorney Paul Engh said will be "about how it is that we do one thing while meaning to do another."
The defense is arguing that the fatal shooting was an accident and that Kim Potter meant to reach for her stun gun and not her firearm when she shot Daunte Wright in the chest.
Engh gave examples of common mistakes to the jury — including writing the wrong date down or putting in an old password into a computer.
"They are ordinarily dismissible, but they become quite important when what happens is catastrophic," Engh said.
"Dr. Miller will tell you in times of chaos, acute stress decisions have to be made when there is no time for reflection," he added. "What happens in these high catastrophic instances is that the habits that are ingrained, the training that's ingrained takes over. In these chaotic situations, the historic training is applied and the newer training is discounted."
Engh said that stun guns have only been available in the last 10 years to the department and this is a brand new stun gun, "whereas, by comparison, Potter has 26 years of gun training. And an error can happen."
Dec 08, 1:26 pm
Potter wanted to help domestic abuse victims, her defense says about her career
Defense attorney Paul Engh told the jury details about former Brooklyn Center officer Kim Potter, who has pursued a career in law enforcement since she was a teenager in high school.
Engh said that Potter got a bachelor's degree in criminal justice and sociology, and started her career in 1995 as a patrol officer for Brooklyn Center Police Department.
The 26-year veteran to the BCPD, Engh said, "always wanted to be on the streets."
"She'll tell you one of the proudest days of her life was to have her dad pin the badge on her so that she can be a police officer," Engh said.
In particular, Engh said Potter wanted to help domestic abuse victims.
"As she became a part of Brooklyn Center domestic abuse task force … she shepherded women through the court system, became mentors, and made sure they were treated fairly," Engh said.
Dec 08, 12:25 pm
Prosecution focuses on Daunte Wright, may introduce 'spark of life' witness
Prosecutor Erin Eldridge told the jury more about 20-year-old Daunte Wright.
"Daunte Wright himself was just 20 years old — just out of his teens — still had a close relationship with his mother, had a new baby boy, a loving family and his whole adult life ahead of him," said Eldridge.
She told the jury that he had a large family that he loved, dreams of being a professional basketball player and plans to enroll in a trade school.
The prosecution is expected to have a "spark of life" witness, a Minnesota legal allowance that lets prosecutors present evidence about a murder victim that paints them in a nuanced light, legal experts say.
-ABC News' Sasha Pezenik contributed to this report.
Dec 08, 11:57 am
Prosecution hammers Potter's training 
Erin Eldridge, a prosecutor with the Minnesota assistant attorney general's office, is presenting the state's case against former Brooklyn Center Police Officer Kim Potter.
In an opening statement, Eldridge read for the jury the oath that Brooklyn Center officers take: "I will never betray my badge, my integrity. my character, or the public interest. I will always have the courage to hold myself and others accountable for our actions."
Eldridge told jurors that police officers "have the responsibility to be mindful and attentive and acutely aware of the weapons that they carry and the risks associated with those weapons," targeting Potter's defense that claims Potter had meant to grab her stun gun instead of her firearm when she fatally shot Daunte Wright.
"When it comes to those weapons, they have the responsibility to carry those weapons, and use those weapons appropriately," Eldridge added.
Eldridge told the jury that they'll hear evidence regarding stun gun and firearm training that Potter, a 26-year veteran of the Brooklyn Center police department, would have had.
Potter carried her weapons on her belt in the same way every day on the job, Eldridge told the jury, and that she wore her firearm on her dominant, right-hand side and her stun gun on her non-dominant, left side.
"She was also trained about the risks of pulling the wrong weapon and that drawing and firing the wrong weapon could kill someone," Eldridge said. "She was trained to carry her weapons in this way. And she was trained on how to use them and how not to use them."
Dec 08, 10:56 am
Daunte Wright's family enters courtroom 
Daunte Wright's siblings — Damik, Diamond and Dallas — have arrived at the Hennepin County Government Center ahead of opening statements.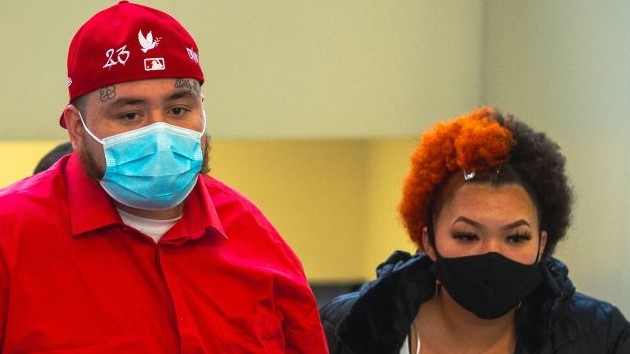 Daunte's family wants him to be remembered not through the tragedy of his death, but as a brother, son and father who was close with his family.
"On Thanksgiving, we sat there and we watched so many videos of my nephew," Wright's aunt Naisha Wright said tearfully in a past interview with ABC News. "It was just such a beautiful thing, because everybody had a memory of him either cracking jokes or trying to dance — because he could not dance, but he tried."
She added: "He just had his whole life taken away from him. We had our hearts pulled out of our chests. He was my baby."
Dec 08, 10:13 am
Names prominent in the trial
The state is expected to deliver its opening statement first, represented by Assistant Attorney General Matthew Frank.
Judge Chu will call the case, and hand it to the prosecution. Depending on how long each side takes, it is entirely possible the state call its first witness today also.
-ABC News' Sasha Pezenik
Dec 08, 9:47 am
A look at the jury as trial begins
Opening statements in the trial of former Brooklyn Center police officer Kim Potter will begin Wednesday at 10 a.m. ET at the Hennepin County District Court in Minneapolis.
Proceedings will take place in the same courtroom where Derek Chauvin was convicted in the murder of George Floyd.
Potter, 49, is charged with felony first- and second-degree manslaughter in the fatal shooting of Daunte Wright, a 20-year-old Black man. She has pleaded not guilty.
Potter's jury is less diverse than the one that decided Chauvin's case: nine of the 12 deliberating jurors are white, alongside one Black juror, and two Asian jurors. The two alternate jurors are also white.
The deliberating jury is 75% white — which is aligned with the racial demographics of Hennepin County, according to Census information.
-ABC News' Sasha Pezenik
Copyright © 2021, ABC Audio. All rights reserved.